About Dr Philip Bergersen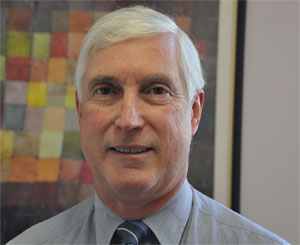 Dr Philip Bergersen is a senior Urologist who practises on the North Shore of Sydney. He has a private practice based in Chatswood and Hornsby. He holds appointments at Sydney Adventist Hospital (SAN), North Shore Private Hospital, and The Mater Misericordiae Hospital, and holds a public appointment at Hornsby Ku-ringai Hospital.
Dr Bergersen completed his Bachelor of Medicine and Surgery in 1980 at Adelaide University and then relocated to Sydney to undertake his medical Residency. He completed his Urological surgical training in Sydney and was awarded his Fellowship of the Royal Australian College of Surgeons (FRACS) in 1989. In 1990 he completed a fellowship at St Radboud Hospital, University of Nijmegen, The Netherlands , under the governance of Prof Frans Debruyne. He subsequently returned to Sydney in 1991 as one of the first Australian Urologists to complete an overseas fellowship focusing on Radical Prostatectomy.
In 1993 Dr Bergersen joined Hornsby Hospital as a Visiting Medical Officer and in 2008 was appointed the Head of Urological Surgery, a position which he continues to hold to this day. He is also the supervisor of Urology Registrar training. He is the Head of The Section of Urological Surgery at the SAN, a member of the NSW Training accreditation and education committee of USANZ (Urology Society of Australia and New Zealand). He holds memberships of USANZ, SIU (Society Internationale d'Urologie), EAU (European Association Urology), AUA (American Urological Association), and participates in the NSW Urology Oncology Programme. He is a member of the QCR (Quality Control Review) committee of the SAN as well as an active participant in the Multi-disciplinary Cancer Meeting. He is a member of the NSW branch of the Australian Medical Association. He is a published author and presenter at international urological meetings and continues his professional development by annually attending local and international meetings. He has also completed postgraduate training in Robotic, Laparoscopic, and Laser surgery and was instrumental in establishing the Robotic Surgical Programme at the SAN.
Dr Bergersen is a trusted, respected and high volume surgeon with over 20 years of clinical experience as a practising Urologist. His practice focuses on patient centred needs and delivery of individualised care. He offers treatment and management for all urological conditions and holds a specialty interest in Urological Oncology, Laparoscopic and Minimally Invasive surgery, and Robotic Surgery for prostate , kidney and bladder cancer.
Winter M., Garcia C., Bergersen P., Woo H., Chalasani V. A systematic review with meta-analysis of transrectal prostate biopsy versus transperineal prostate biopsy for detecting prostate cancer. BJU International Conference Publication 2013;112:22
Winter M., Bergersen P., Woo H., Chalasani V. Complications after prostate biopsy : A meta-analysis of transrectal prostate biopsy versus transperineal prostate biopsy. BJU International Conference Publication 2013;111:97
Goolam A., Bergersen P., Dean T., Langdon P., Woo H. Ten year re-treatment rate for bladder neck incision. BJU International Conference Publication 2012;109:23
Goolam A., Bergersen P., Dean T., Langdon P., Woo H. Ten year re-treatment rate for transurethral incision of the prostate. Journal of Urology 2012;187(4 suppl. 1):799
Kneebone A., Guo L., Raymond B., Vaux K., Vass J., Rasiah K., Lazzaro E., Bergersen P., Eade T. First Australian report of IMRT following radical prostatectomy. BJU International Conference Publication 2010;105:17-18
Eade T., Guo L., Vaux K., Vass J., Rasiah K., Lazzaro., Bergersen P., Kneebone A. First Australian report of dose escalated IMRT for prostate cancer. BJU International Conference Publication 2010;105:1
P J Bergersen, Combined Androgen Blockade. ASIS Publication 1999
Bergersen P. An inexpensive but versatile self-retaining retractor. European Urology 1996;30(2):105
Bergersen P. Early continence following radical prostatectomy. European Urology 1996;30(2):224
Bergersen P. An inexpensive but versatile self-retaining retractor. Aust NZ J Surg 1996;66(6):393
Bergersen P. The prognostic value of ABO(H) blood group antigens in bladder carcinoma using AMEX and immunoperoxidase methods. B J Urol 1988;62(5):479-480
Bergersen P., Lazzaro E., Lalak A., Maher P. Renal adenocarcinoma metastasizing to contralateral renal pelvis. Urology 1987;29(5);560-561
Bergersen P., Kennedy P., Kneale K. Metastatic tumours of the parotid region. Aust NZ J Surg 1987;57(1):23-26